It's the failures in fishing that make the triumphs even better. When it comes to gamefishing, I've certainly had my fair share of failures - long fishless days in horrible conditions usually have me come home thinking: I wish I'd just gone bream fishing instead. However, what unfolded yesterday pushed all those failures into a distant memory and made success so, so much sweeter – but I'll start from the beginning…
With my Jack's Lap Stabicraft in Sydney over Christmas I was keen to see how the little red rocket performed on my home turf. Without outriggers, gamefishing was going to be tricky, but the predicted conditions just looked too damn good to stay inshore. So a quick phone around and I had some awesome intel about where the fish were. I flicked a text to good mate and gamefishing tragic, Les Fox and told him we were chasing marlin. Although most of those before mentioned gamefishing "failures" have been with Les, he still excitably agreed and a day later we were cruising east out of Broken Bay in the Stabi.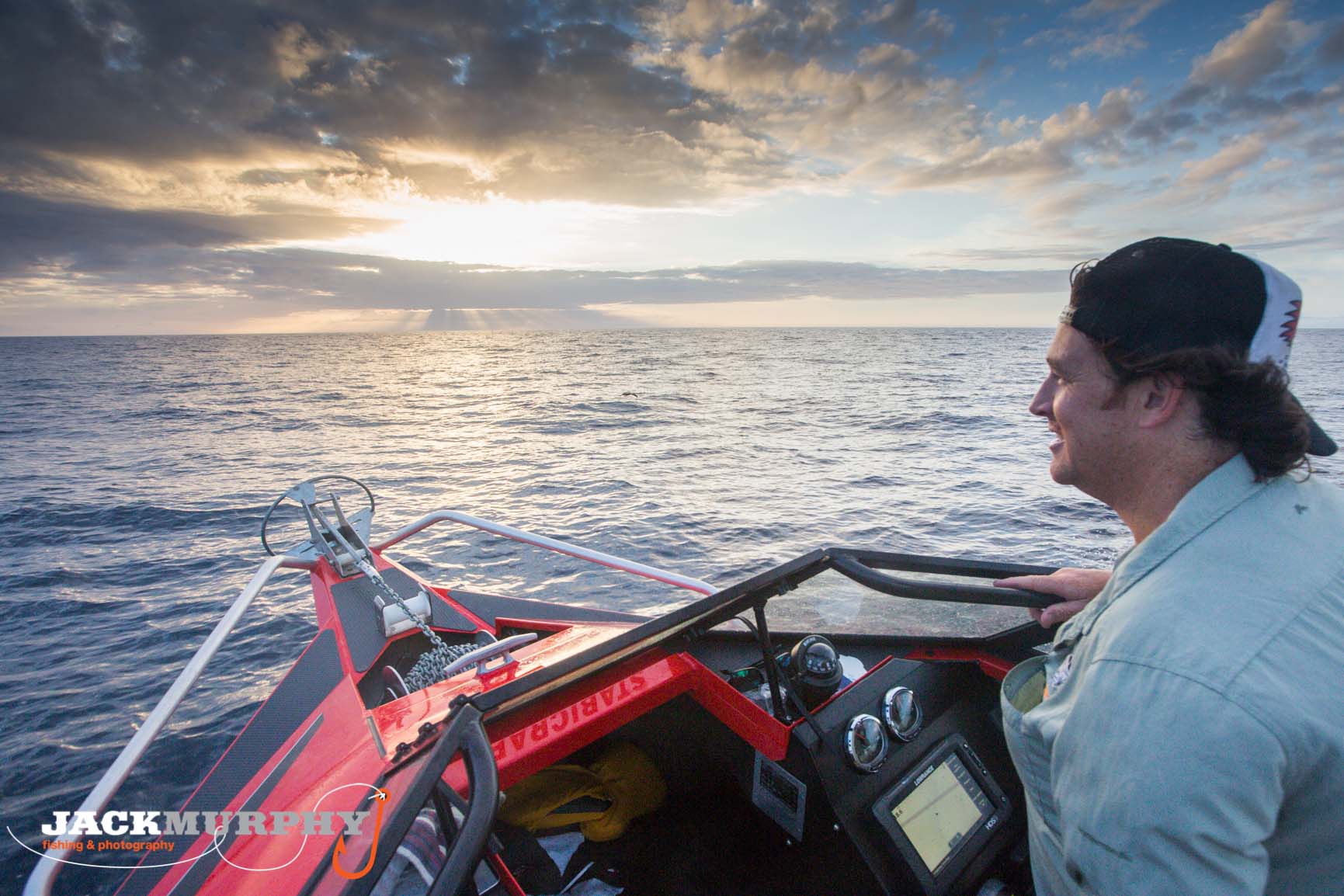 Eyes on the horizon.
As the sun exploded from above the morning cloud cover, the streaky golden rays below sprinkled the horizon. The ocean was flat and the wind non existent – today was definitely the day. Our first stop for the morning was the Broken Bay FAD (fish aggregating device), we set a spread of three Pakula skirted lures and trolled until a little mahi mahi woke us up with a quick squeal of the ratchet. We reset the lures and followed our noses to the next spot.
First fish of the day - what a beauty.
A few hours down the track and we were seriously struggling to keep the lures in the water without a pack attack of mahi mahi annihilating our spread. So the decision was made to have a break from trolling and pull up on some good jigging grounds we'd found earlier in the day. After catching one kingy, we noticed the whole school had followed him back to the boat and were seriously aggressive. So aggressive in fact, that we couldn't resist stripping down to our trusty Bonds undies and jumping in to photograph the school. Kinda' surreal watching these amazing fish chase around our Sebile Stick Shads right in front of our noses.
We broke up the day with a spot of jigging...
...And found some seriously big schools of kings.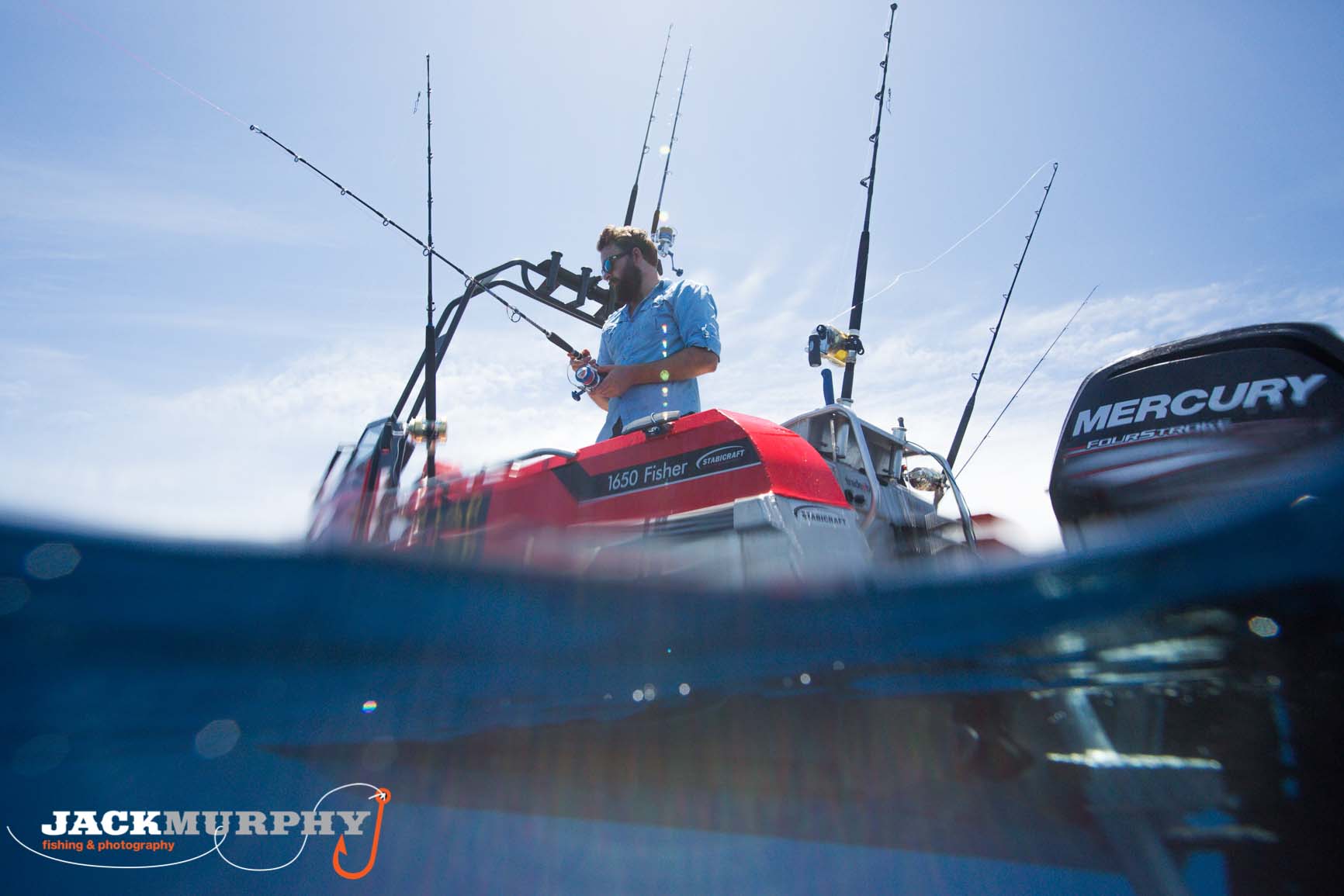 Throwing around some surface lures in 100 metres of water.
The kingies loved the Sebile Stick Shad!
Hooked up!
After catching and releasing more kingys than we could handle, we threw the lures back out and kept trolling. Les decided he wanted to add a fourth lure to our spread and picked out a tiny little Pakula Fluzi (a lure which looked more suitable for a big trout or an Aussie salmon than a marlin). He clipped it onto a spinning outfit and set it a couple of hundred metres back behind the spread. To punish him for putting out such a silly looking lure, I decided to drive past all the fish traps I could find, which in turn would result in a little mahi mahi grabbing his tiny lure every time. After reeling in more mahi mahi than one man can bear, he cursed me as I drove past another trap. On cue, the rod buckled, but this time it took a lot more line than usual and Les struggled to actually get it out of the rod holder. A black marlin of around 60kg then appeared 400 metres behind the boat shaking it's head in anger with that tiny little Fluzi hanging out of its mouth – well I'll be damned!
Small lures catch big fish. Apparently.
Les' fish goes deep.
Then comes back up again.
Stoked.
Only on light line and tail wrapped for half the fight, Les fought the stubborn black for about 45 minutes until we grabbed the leader and set him free. After the obligatory high fives and a quick team debrief, Les got us back on the troll while I set the lines. First things first, I put the little Fluzi straight back out to the shotgun position. Next, I fed out a Pakula Phantom on the long corner, and a few seconds after I clicked the 30W reel into gear another 60kg black marlin came flying out of the water with the Phantom skirt helicoptering into the air! The amount of celebratory screaming and terrified laughter that came next is something that I think people fishing a few miles away could've heard (thank God I had my pants back on). Come to think about it, I must've been feeding that lure straight back into the fishes mouth! By far the most actively aerial marlin I've ever seen, this fish would've jumped over 30 times before he finally came to the boat – without a doubt, it was the best fight I've ever had. Actually, the best bloody day I've ever had – exhilarating!
Fish number two on the Pakula Phantom.
Now there's a shot for the pool room - thanks for manning the camera Les.
One seriously pretty fish.
My marlin spent more time out of the water than in it.
Underwater view.
One happy chappy.
Is there a fish you want me to attempt to catch? A location I should fish? A photographic challenge? You tell me. Either email fishfingers18@yahoo.com or leave a comment below.
Until next week.
Jack Murphy
© JackMurphy Fishing and Photography