Well I think I've only just physically and mentally recovered for my latest adventure. Last Saturday, I picked up good friends Tony and Darius at a weary 5:30am. We loaded into the Land Rover and chugged 1000m high into the icy Blue Mountains in NSW. The goal was to explore some new trout streams, cast a fly or two and test out some whizz-bang waders.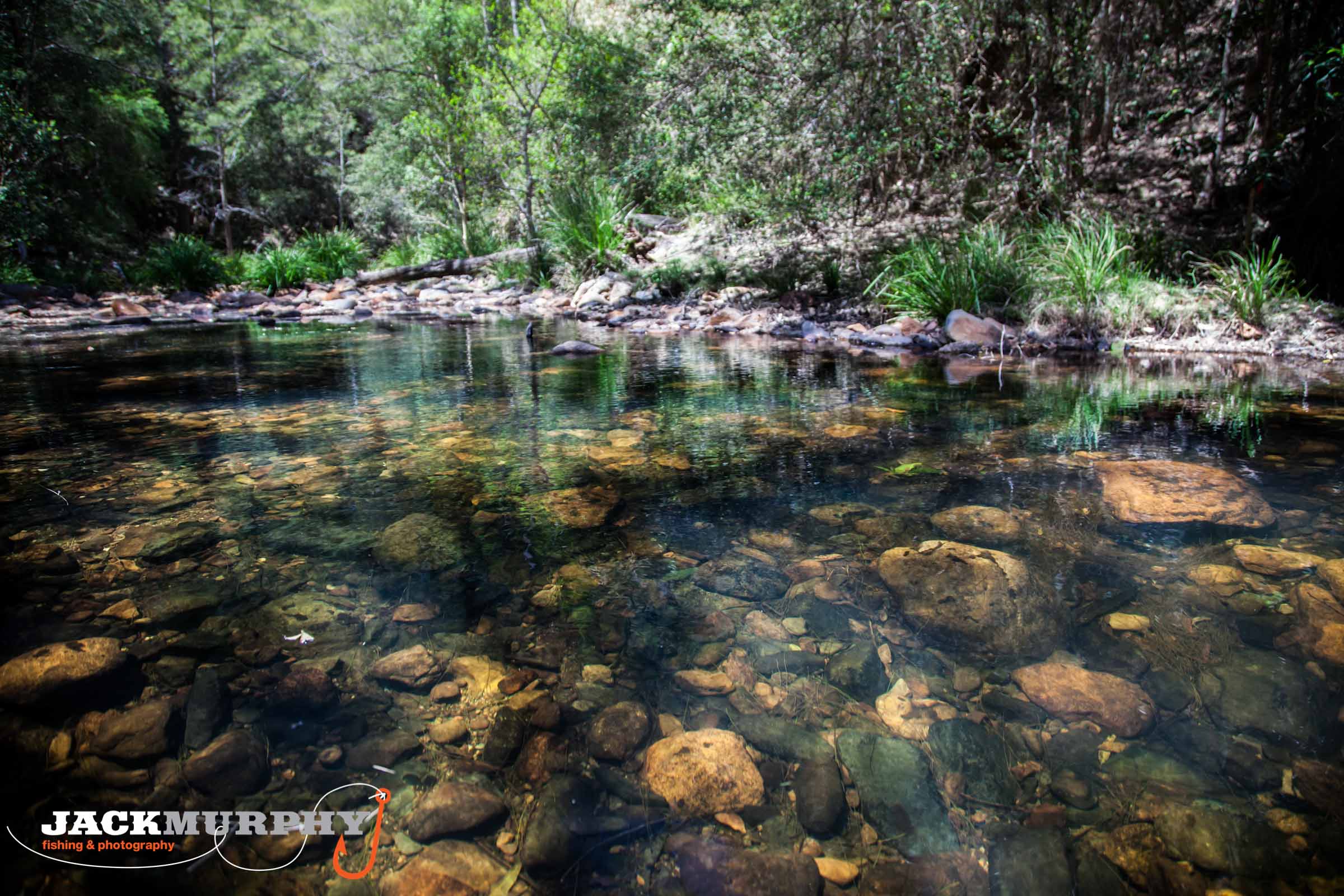 Trout country.
During the quick two-hour drive, Tony the ex pro fisherman, kept us entertained with stories of 15lb snapper, mongrel kingfish and the nights when they used to pull trag "hand over fist". Darius and I listened in awe and before we knew it, we'd hit the dirt roads (and their many corrugations, that would haunt us later).
Tony's fly box.
The plan was to fish a remote section of the Coxs River but we never ended up making it that far. We walked two hours to a small tributary with tight, slow moving water. An hour and a half into the walk, I noticed something wasn't right. Shit… I'd brought half a fly rod and half a spinning rod. The two tip sections looked so similar I'd inadvertently brought along the tip of a Samurai squidding rod and left the other half of the fly rod in the car. Amazingly enough, the two sections could be joined together and it was even able to cast! Have I just invented a new rod combo!? Probably not...
I was still able to cast with half a flyrod!
We tested out the Fly 'n Dry chest waders in the streams and were very impressed. Unlike most, Fly 'n Dry waders are made from neoprene and keep you snug as you trudge through icy water. The waders can be custom made to fit anyone and feature a built-in Blundstone gumboot. We loved fishing out of these bad boys; you can pretty much go anywhere! Also, if you don't know what you're doing, they really make you look the part (fly-fishing pros beware). If you're heading into trout country, I couldn't recommend them highly enough.
Find them here: www.flyndrywaders.com.au
Fly 'n Dry Waders
Darius putting the waders to the test.
Behind the scenes.
During the trip I reckon we saw over 50 trout with usually one or two in each pond. They were spooky, shy and very aware of their surroundings. After a couple of hours fishing, five snake spotting's, four goanna encounters and one failed hookup we trudged uphill back to the car.
Sneaky...
Drenched in sweat and covered in stinging nettles, we finally got back to the car after covering what would've been 6km of rough terrain. Vowing never to walk that far again, we started heading home… Halfway home the trusty Land Rover started feeling strange, obviously suffering from gearbox problems. A loose nut from those bloody corrugations meant I had to walk another 5km, at night, into highway traffic, in shorts and thongs to the nearest servo and grab as much transmission fluid as I could carry. Instead of walking all the way back to the car, Good Samaritan Gary (who went to the petrol station to get toilet paper for his stranded wife) gave me a lift – phew!
Although this was certainly the trip where nothing went right, as good ol' Tony said, "it's all about the adventure mate".
Is there a fish you want me to attempt to catch? A location I should fish? A photographic challenge? You tell me. Either email fishfingers18@yahoo.com or leave a comment below.
Until next Wednesday,
JM
© JackMurphy Fishing and Photography