You don't need a boat, it's cheap, it's simple and hell, we live on an island so the opportunities are endless – yep, this week's blog is all about beach fishing! Whether it's the school holidays, a weekend camping trip or an epic journey around Australia – you can pretty much catch a feed on any surf beach. But before you get the sand between your toes, take with you these five tips that'll have you out-fishing your buddies in no time.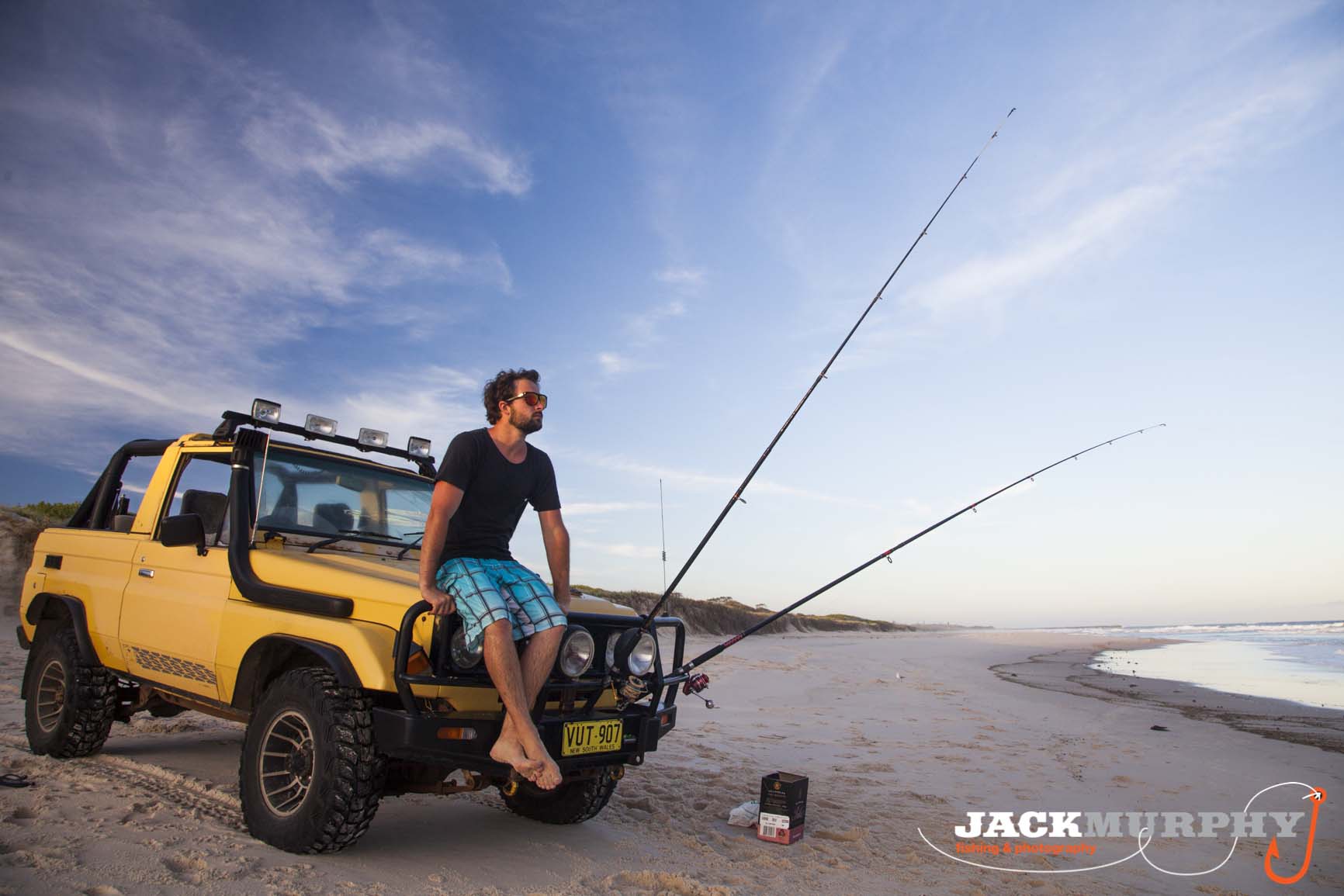 Anything can be turned into a rod holder on the beach!
1. LOCATION, LOCATION, LOCATION
More important than anything else (except maybe your hooks), fishing in the right spot is crucial to success in the surf. In most cases you want to fish the deeper patches of water where the fish travel through searching for food – these areas are called gutters. Finding them isn't actually that hard, waves break when the water is shallow. If you can find a spot where the waves aren't breaking or where they break and then reform again closer to shore – you're onto a winner. That being the case, sometimes you don't actually need to cast that far to get onto the fish if a gutter has formed close to shore.
High vantage points are great for scoping out gutters.
2. TIME AND TIDE
Beach fishing can be productive throughout the day, and night. And although it's not a rule of thumb, the best times to lob a bait into the surf are usually around sunset and sunrise. The tides play a big part too; I personally prefer an hour each side of a low tide, as it's great for casting out to those deep gutters usually out of range at high tide. However, the best of the best is when a sunset or sunrise coincides with a high or low tide. Instead of aimlessly wandering out onto the beach, fish at the right times and research the tides – you'll catch more.
Sunsets and beach fishing go together like hot chips and tomato sauce.
Fishing under the moon.
3. THE GOODS
Having the right gear is essential to beach fishing. However, that doesn't mean it's expensive. A couple hundred dollars should see you fully setup and ready for action. The rod is crucial to success, but you may wonder, why do they have to be so long for beach fishing? Two reasons: firstly, a longer rod will allow you to cast further distances. Secondly, it also helps keep your line above the breaking swell. The reel is less important, but it's still not something you want to skimp on. Your reel will get salty and sandy, that's a fact, so ensure it's relatively well sealed. You also need a large line capacity for big casts and withstanding screaming runs from any bigguns you may hook.
Most beach fishing rods are two-piece for easy transportation.
Ready for a run!
4. BAIT AND BURLEY
Pilchards are good, squid is great and live beach worms are deadly weapons! Let me elaborate, pilchards are an awesome bait but they're also very soft, which means they don't like being cast too vigorously. Squid aren't as oily as pilchards, but they stay on the hook better and withstand the barrage of smaller picker fish. However, if you can get your hands on some live beach worms, you won't be disappointed. They stay on the hook well and they're the staple diet for most fish cruising the gutters – yummo! Burley is also just as important on the beach, as it is on the boat. A scaler bag from your local tackle shop filled with some old pilchards or leftover fish frames is all you need. Place it in the wash zone and use a sand spike to keep it in place.
"Pilchards are good, squid is great and live beach worms are deadly weapons!"
5. SMOOTH LANDING
When it comes to landing a fish, instead of scull dragging them from the surf and onto the sand, use the surging waves to your advantage. During the closing stages of the fight (when the fish is in shore break) time your last big rod pump with an incoming wave and use the momentum to slide the fish onto the beach.
The ultimate beach fishing prize – the elusive mulloway.
Use the surging waves to your advantage in the final stages of a fight.
Success!
Is there a fish you want me to attempt to catch? A location I should fish? A photographic challenge? You tell me. Either email fishfingers18@yahoo.com or leave a comment below.
Until next week.
Jack Murphy
© JackMurphy Fishing and Photography