Firstly, I must apologise for the lateness of this Wednesday's blog, I caught my first marlin yesterday! So after only getting a three-hour snooze, I think I earned a well deserved sleep-in. I went out with game-fishing guru, Joel Agresta and his mate Steve Pusztay. We launched in Botany Bay and trolled lures on the shelf off Sydney. After two hours of plugging away we got a take on the 30-wide, out long, off the rigger. The battle lasted an epic two-hours; but with no jumps, we were questioning what I'd actually hooked…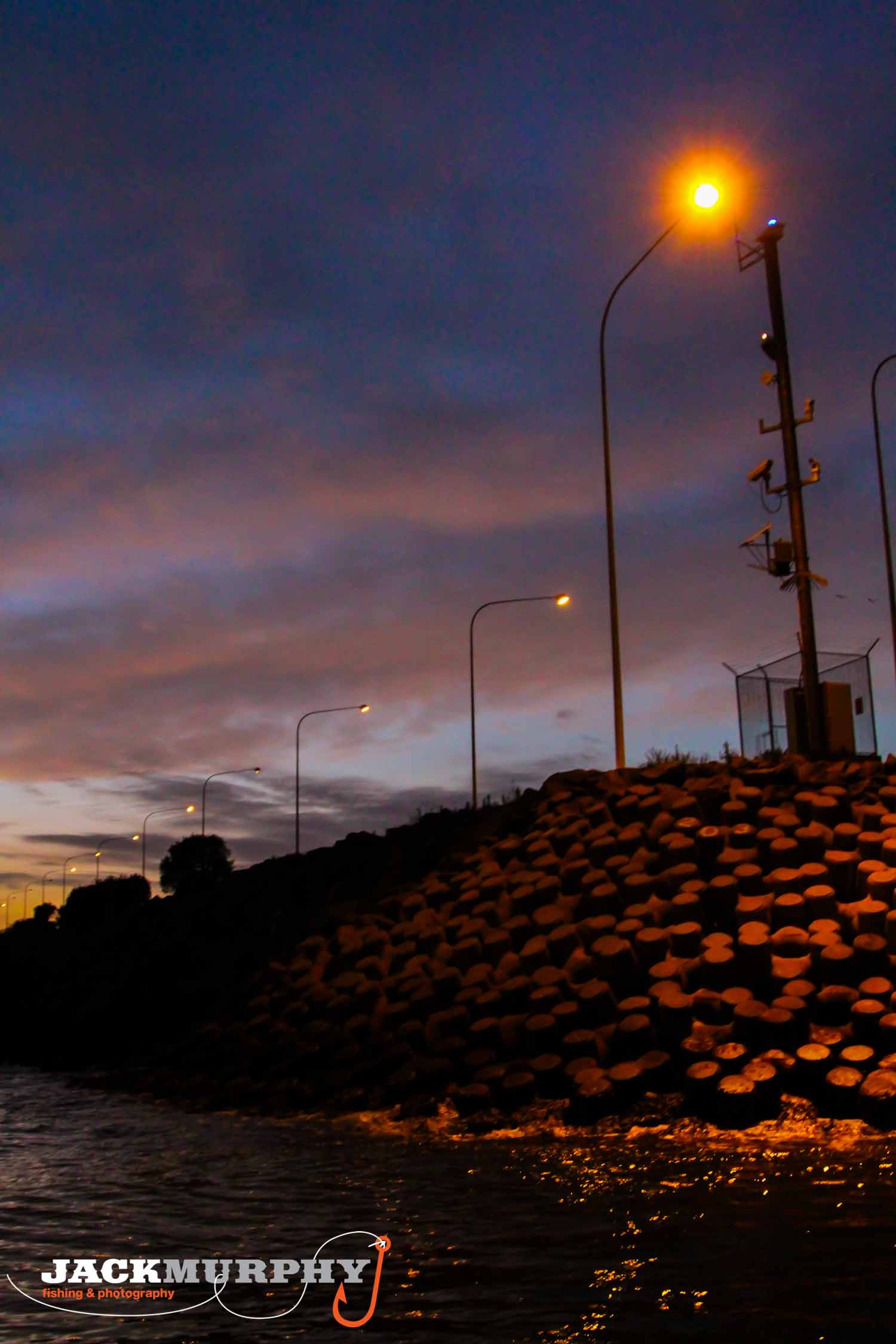 An early start in Botany Bay.
Locked and loaded.
At around the one-hour mark I was losing line and hurting bad. Having still not seen the fish, I was worried we might never. Suddenly the line angle changed and the fish came straight towards us, from the crystal clear blue water I spotted two iridescent pectoral fins. The fish charged at the back of the boat, checked us out, did a lap around the outboard and then tore off down deep again. I called it for a blue upwards of 150kg - we were in for a serious tug of war, but at least we knew what we were up against. The fight lasted another hour, my legs were shaking, my lower back was shot and my palms started to swell with blisters - finally Joel had the leader. One wrap, two wraps and as I leant over to prepare the bill rope, the actual hook eye bent open, freeing the marlin and quashing any chance for an underwater photo-shoot. Damn, but that was awesome. A great day Joel and thanks for manning the camera Steve.
The fully rollered 15kg Fish Finder stick did the job with ease.
Joel strapping me to the boat, let's hope he can tie a bowline!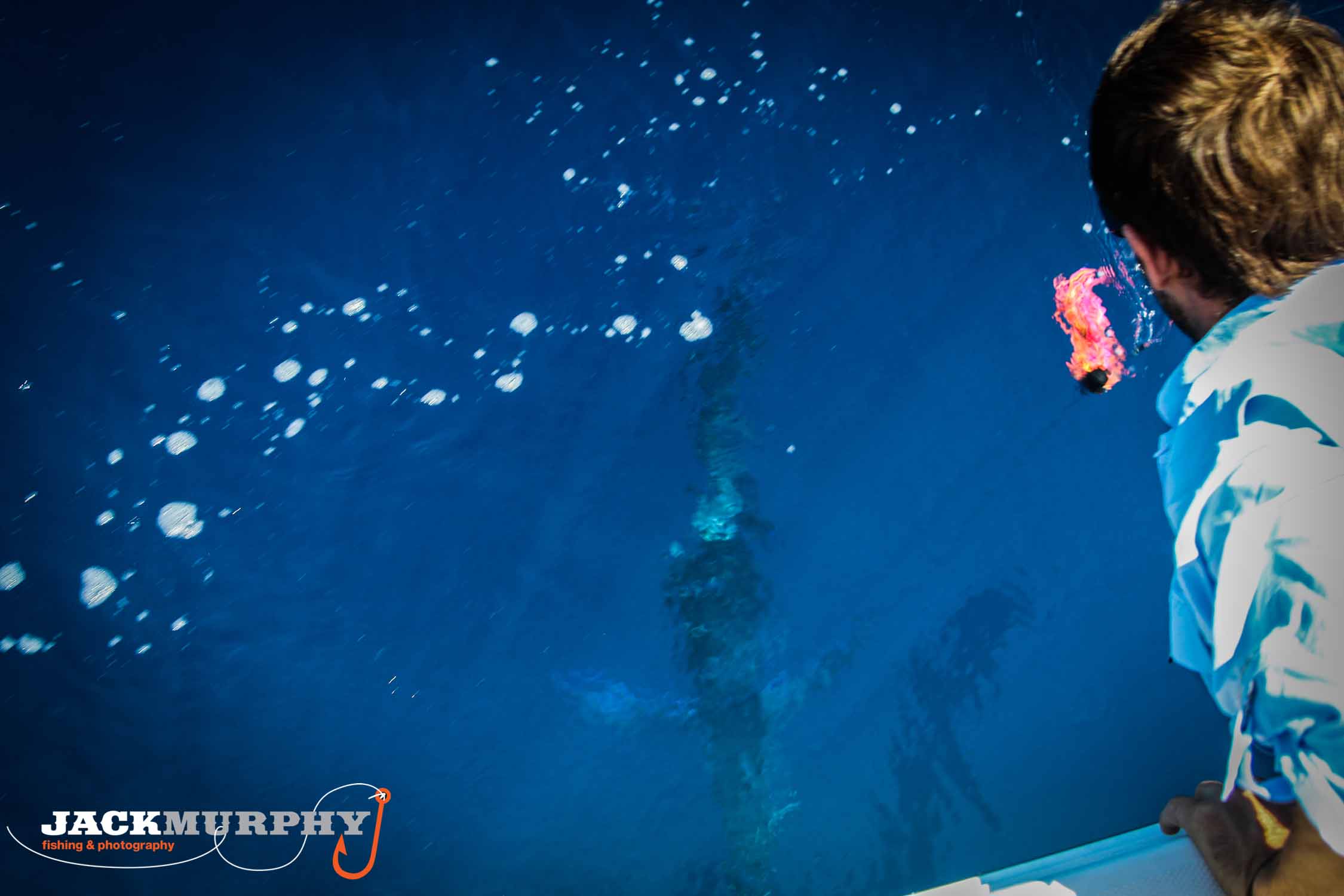 On the trace.
Now I know you've all come here to see pretty pictures of fish not blue shadows underwater, so I won't disappoint. Let's talk tasty table fish. I've never been one to understand the excitement behind dangling a smelly pilchard for (cue the eye rolling) 'snapper'. But, I'm hooked (you can roll your eyes at that pun too). Anyways, a recent work trip to Melbourne last week also coincided with snapper season and a hot bite in Port Phillip Bay.
Sunset over Port Phillip Bay.
Now this type of fishing was a first for me, basically you drop anchor once you see some marks on the sounder, rig up as many rods as you have and cast out as many baits as humanly possible. If you're doing it right, the back of your boat should look like a clearance sale at a closing down tackle-shop.
Snapper time!
Then you wait...
Les Fox, the elusive snapper whisperer.
Even the bycatch looks pretty at sunset.
...And watch out for seals.
FINAL SCORE: seal: 8 - Jack and Les: 7.
At least I got my rig back this time.
If you're in the right spot, at the right time, the action is insane. I was lucky enough to be in one of those spots at the right time.
Stunning sunsets and stonking snapper - am I in heaven?
I hope you enjoyed today's double hit blog; I'm taking next week off to kick back like the rest of you! Enjoy Chrissy. Hope Santa brings you a new 'fancy schmancy' lure.
Is there a fish you want me to attempt to catch? A location I should fish? A photographic challenge? You tell me. Either email fishfingers18@yahoo.com or leave a comment below.
Until next time,
JM
© JackMurphy Fishing and Photography