This week The Fish Zone is lucky enough to have guest blogger; Andrew Hestelow. In today's blog, he writes about his yearly pilgrimage to Hope Island in the 90's. Epic trips like these always get me excited, I thoroughly enjoyed reading about Andrew's Great Barrier Reef adventures and I hope you do as well.
Words and Images by Andrew Hestelow.
Hope Island is situated smack dab in the centre of the Great Barrier Reef, some ten miles from Cooktown. Surrounded with a fringing coral reef on its east and southern sides, and a lagoon sheltered from trade winds to the west, you can hardly pick a more scenic base for a few days of tropical sportfishing. In the 1990s we would schedule a trip to Hope at least once a year, more frequently if time permitted.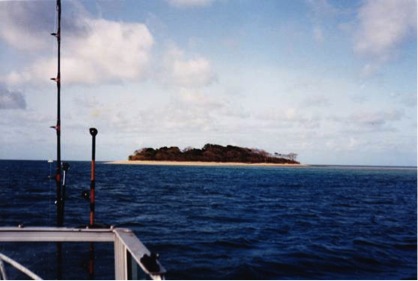 Each expedition started in Sydney. Windscreens and aerials removed from the boat. Bulky gear too expensive to send by air, stowed under the deck. That included plastic jerry cans, dry bags with our airbeds and sleeping bags, cooking gear, tarps and the like. Then, the boat was delivered on its trailer to my mate John at the North Queensland Express yard in Newcastle, 150km north of Sydney.
It sat in the yard until a suitable truck was available. By suitable I mean one with a long flat load, for instance steel sheet. The boat was lifted onto the truck deck and sent north, where it was unloaded into the NQX yard in south Cairns. The financial arrangement was between myself and the truckie. From memory, the cost was around $800 each way. Not much, when divided between four or five crew. Anyone who's trailered a boat from Sydney to Cooktown and back will know the heavy costs - especially in fuel, and motel fees. Not to mention wear and tear on trailer and tyres.
We would then fly into Cairns on a discount flight and our mate Lloyd would lend us his Series 2A Land Rover, for towing. This beast had more rattles than a millionaire's baby. But with a worked Holden motor under the bonnet it had the power we needed for launching at either the Daintree river ramp, or Yorkeys Knob. A stop for provisions and fuel en route to the water, a taxi for the extra crew, and we were away same day.
Many and varied were the adventures we had on these incredible trips. But in one case, what started as a disaster turned into perhaps the most memorable of all. Circa 1996, Andrew Wily and I flew into Cairns and exited the terminal to be greeted with the decorative palm trees thrashing themselves to pieces in a howling south-easterly.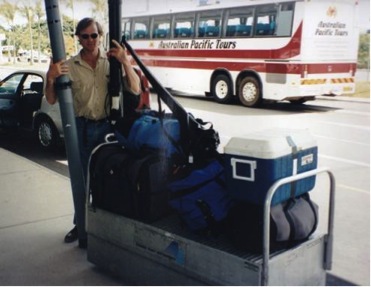 The key to any successful FNQ fishing trip is what the trade winds are doing and in this case, we had drawn the short straw. Winter winds are regularly 20 knots, and can blow up to 30 knots – day after day, week after week. What's worse is they blow all through the night, too. But there is nothing for it and because we were heading north in the boat it would be manageable – until we wanted to come home into the teeth of the wind, anyway. Navigation would be supplied by our state of the art Magellan 1000 handheld. I still have mine:
First stop was one of our all time favourite places, the giant sand spit at the mouth of the Daintree River. Known as a producer of XOS queenfish, we have never done much good there – excepting with night time shark fishing. What is special about the Daintree mouth is the amazing and sometimes even valuable selection of flotsam, which drifts ashore. Waterproof cameras, from tourists out on the reef. Hard body lures, originally snagged on the coral or lost to a fish, which float ashore once the hooks have rusted away. And, one memorable day, large baulks of high grade rainforest teak, all of which were too heavy and bulky to be taken aboard, and which were left for some other lucky individual to discover.
We pulled into Hope Island late in the afternoon and set up camp. It's a rookery for the Torres Strait pigeon, a large white dove which spend all night cooing and squabbling in their countless thousands in the island's scrubby trees. They fly out at dawn to spend the day feeding on fruit in the mainland jungles. The pong from the rookery is quite strong but you get used to it, after a day or two. I don't moor my boat offshore when up north, preferring to just let it go dry sitting on the coral grit at low tide. On big tides the results can be quite spectacular. Here's the old girl in the Starcke River, in 2003:
With the evening wind settling back we got into the rack early, expecting a big days' fishing on the morrow.
That wasn't to be. Early next morning the wind was picking up fast. We were stuck at Hope Island, for the time being. On the plus side, a huge school of bait had moved into the island lee overnight, seeking protection from predators.
With some solid splashes in the deeper water behind the bait it was time to get a lure working. I opted for one of my all time favourites, the Cotton Cordell pencil popper. It didn't take long and we were into action. Giant trevally were hunting in big numbers, if not in size.
Not huge fish, mostly eight to ten kilos, but off the beach they fought even harder than from a boat.
Around the western size of the tiny island Andy was hooking up, too:
All fish released after a pic or two:
That evening the fishing was just as hot:
But we had some bigger GTs in our sights. North east of West Hope is the gigantic Cairns reef:
The leading south-east edge of this giant coral horseshoe is big fish country. Huge blocks of coral have been torn from the reef edge in cyclones and are scattered all around. Some, the size of small houses, hurled up onto the reef itself. Others have tumbled down into deeper water and lie jumbled beside each other, with deep channels between them. Giant trevally use these channels as an ambush point to launch attacks on bait schools traversing the reef front. Next morning we packed the boat and headed east to search for those bigger GTs.
I opted to use Andy's new 10-kilo overhead combo. Thankfully the new drag was in tip top condition, because a big one hooked up hard:
The fight went for over an hour with the GT thankfully heading into deeper water, away from the coral bommies. Once that happened I knew he was mine, as long as I didn't do anything stupid:
And that's how it turned out. I can't even remember what he weighed, but he gave me a solid workout. After a pic or two he went back over the side:
That afternoon, into the Endeavour River at Cooktown, for cold beers, steaks and a comfortable bed at the Seaview Motel, next to the wharf.
Next morning, after refuelling the boat, we were northbound again, to Cape Flattery and beyond. But that's another story!
Andrew Hestelow
Is there a fish you want me to attempt to catch? A location I should fish? A photographic challenge? You tell me. Either email fishfingers18@yahoo.com or leave a comment below.
JM
© JackMurphy Fishing and Photography