"The Bodalla Fishing and Maritime Museum is something that every fisherman has to see"
Spanning three different states and countless coastlines, the Princes Highway is one of the most scenic drives in Australia. It's quite easy to get caught up in the sights, stop at a few bakeries and then only end up travelling 100km in a day. During my recent stay in Narooma, I got a tip-off to keep an eye out for a fishing museum on my way north through Bodalla. Having never been to a "fishing museum" before, I was a little anxious, very intrigued and genuinely excited. Only 40 metres from the highway and signposted by a tiny café style specials board – Bodalla Fishing & Maritime Museum is easily overlooked but certainly can't be missed.
Owned by the passionate and enthusiastic Paul Lyons, the museum has been operating for two years now. Paul spends his days running the museum and trolling eBay for anything fishy. Paul told me that when fishing guru Steve Starling came to visit, he couldn't get rid of him - "he was like a kid in a candy store". For such a small space Paul has really done a great job with the museum. He's looking to expand and has had his eye on the local cheese factory!
Paul Lyons with the Australian bream record, this mighty specimen
tipped the scales just under 10lb after being gutted and gilled.
Instead of just jabbering on, I thought the pictures would say more than I ever could.
Left: Scuba gear has come a long way! Right: Wooden Goggles - hand made by native islanders in the South Pacific.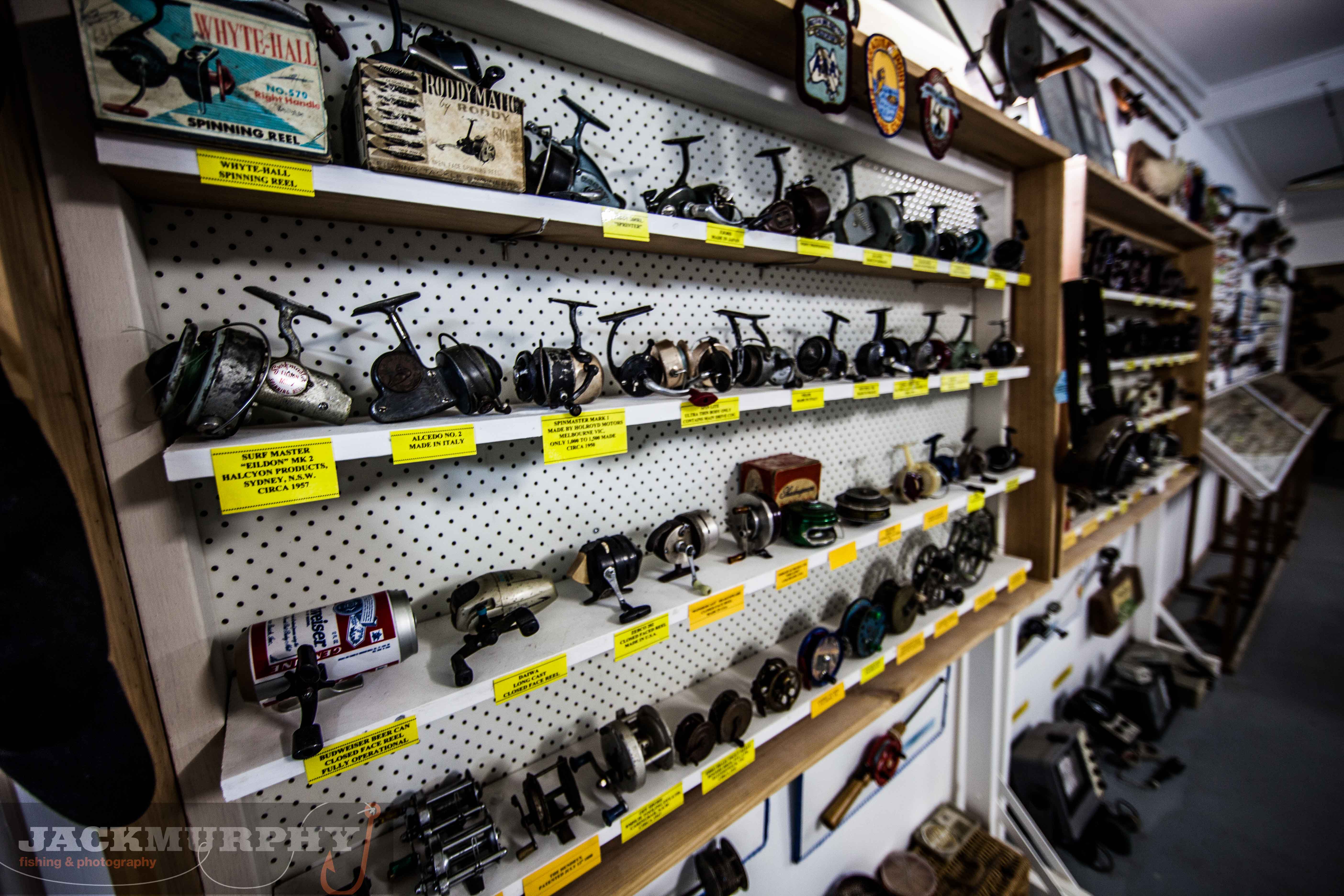 The endless wall of reels.
Left: The "Flo-Line" Sidecast Right: The Budweiser beer can, this closed face reel is fully operational!
Ever seen these before? Left: The beach fishing bait launcher. Apparently outlawed due to the amount of injuries caused by firing baits out into the surf. Right: 1950's Belly Reel - the line runs onto a separate rod and could be used for fly and surf fishing.
Fully rollered game rod.
Johnson Sea Horse
Paul and his museum.
The Bodalla Fishing and Maritime Museum is something that every fisherman has to see. Although it's relatively small, you could go back five separate times and find something new on every visit. Big thanks to Paul for the guided tour and make sure you check out his Facebook page that has over a 4000 likes (link below). If you're ever passing through Bodalla do yourself a favour and stop in - I couldn't wipe the smile off my face for the rest of the day.
Find the The Bodalla Fishing and Maritime Museum here:
Lastly, a big thanks to all the blog friends that came and said hi at the Sydney Boat Show. I was at the TrailerBoat and Trade A Boat stand with the lovely promo girls for the entire show. I had a great time and got some awesome feedback on my weekly Wednesday adventures.
Ash and Lauren
Rheannon from Trader in her element.
Is there a fish you want me to attempt to catch? A location I should fish? A photographic challenge? You tell me. Either email fishfingers18@yahoo.com or leave a comment below.
Until next week,
JM
© JackMurphy Fishing and Photography