By Jack Murphy and Travis Godfredson
Portland is hot right now – damn hot. The southern bluefin tuna have stormed the coast by force and fishos have been consistently catching fish of a lifetime. Peter Pakula said it best, "Congratulations to all the guys chasing the big southern bluefin. You are enjoying one of, if not the best run of big fish ever." So with all the hype, I thought what better a time to blog about Portland - the home of the barrel.
Barrel beau.
It may not be as glamorous as Cabo San Lucas, but the fishing is world-class.
Located four hours southwest of Melbourne, Portland is fast becoming the game-fishing capital of Victoria. Last year, the local ramp had over 400 boats in a single day. That's why the State Government spent $7-million on revamping the boat ramp and harbour in 2014. They're chasing tuna, and it's a big water battleground, popular with blue-collar boaties armed to the teeth with vibes, skirts and deep-diving lures. As well as tuna, Portland has a big reputation as an albacore and dolphinfish (believe it or not) fishery. Bottom bouncing with electric reels for big eye, trumpeter and other googly-eyed bottom feeders is also growing in popularity. Keep your eyes peeled for 200-tonne blue whales, too!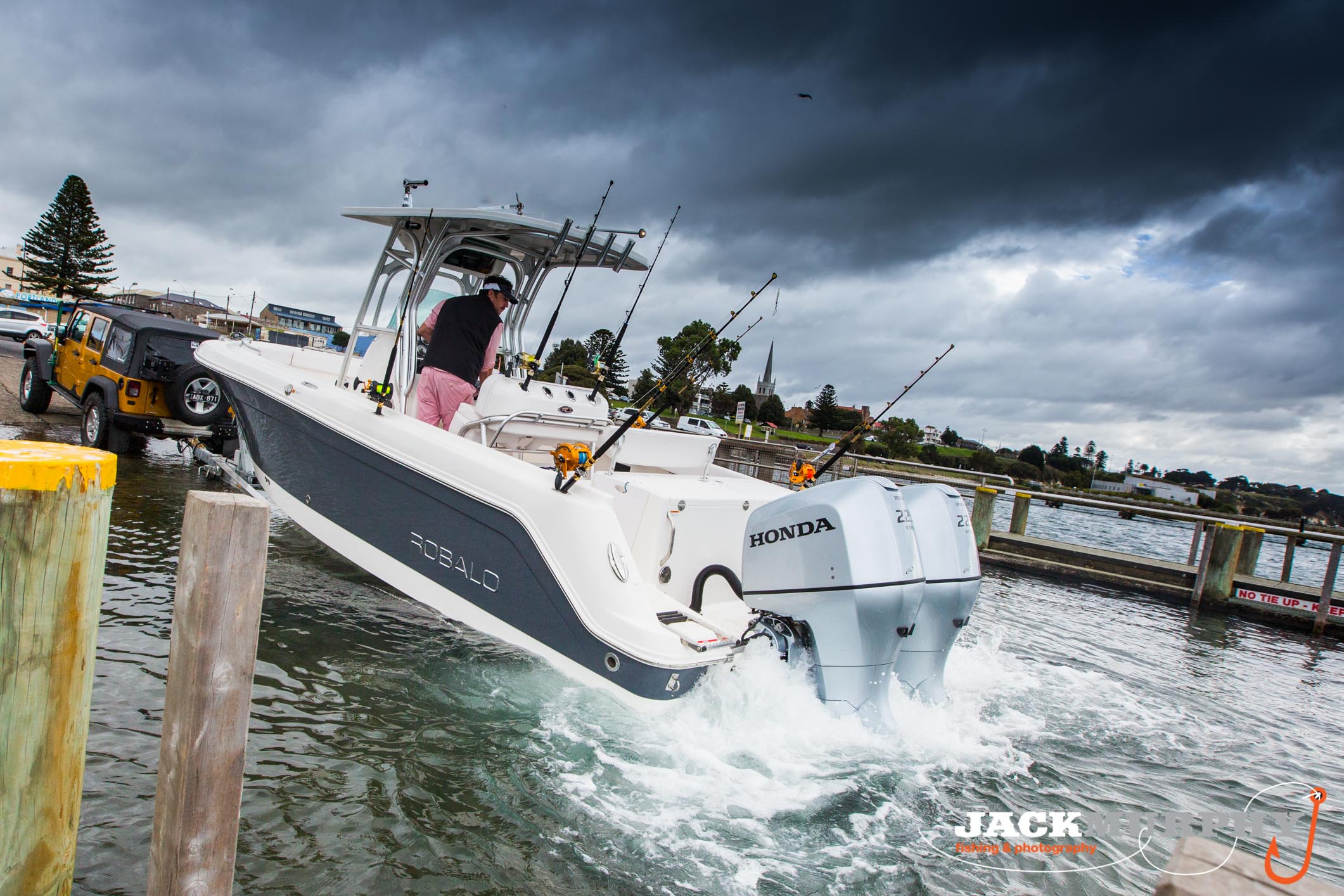 "The State Government spent $7-million on revamping the boat ramp and harbour in 2014."
The locals.
What they call a '3 of a kind' in Portland.
Image: Bob McPherson
The harbour is home to boats of all shapes and sizes.
Eyes in the sky.
Portland is more than just a tuna fishery...
Sunrise at Portland.
One of the Portland fishing pioneers is Bob McPherson. Bob has lived in the area for 35 years. He's a plumber by trade, but can be commonly found scouting the boat ramp or spinning a yarn in the tackle shop. If there's a big fish caught off Portland, rest assured Bob will know about it.
Local legend: Bob McPherson.
The HUB of barrel gossip: Portland Bait & Tackle.
The bluefin fishery off Portland was largely untapped until 2006. Before then, most anglers headed straight to Bermagui to catch the 'big one'. Bob reckons the tuna fishing alone is worth over $10 million annually in the southwest region, a figure he says is based on official government reporting.
I'm not sure that classifies as eight items or less...
Images: Bob McPherson
Trav with a 20kg tuna barbell.
Bob has seen the standard entourage of celebrity fisherman come to town, but reckons, "most of them are big sooks, spending half a day to reel in a tuna that should take a few hours to bring in". He tells us the best fishermen that pass through are humble, working class blokes that don't fish for fame or fortune.
Portland is also on the cusp of record-breaking bluefin. On Sunday, Brad Parkinson, Greg Hurst, Luke Meli and Adam Mason landed a 164.3kg behemoth on a Pakula Mouse in an Evil Angel pattern - a fish that was only 3kg shy of the IGFA world record. Bob says a lot of these big fish are being caught on Pakula Lures, a brand he has been fishing with for 35 years. "(Pakula Lures) have always been in the top hitters", Bob tells me. "His lures have been around longer than most and have the runs of the board with bluefin, yellowfin and marlin."
164.3kg of Portland bluefin.
Image: Bob McPherson
Nearby Cape Nelson.
Is there a fish you want me to attempt to catch? A location I should fish? A photographic challenge? You tell me. Either email jack@jackmurphyfishing.com.au or leave a comment below.
Until next time,
Jack Murphy
© JackMurphy Fishing and Photography